I'm an enthusiastic amateur cyclist and while I've a loooonnnggg way to go before I'm any kind of cycling expert, I've learned a few bits and pieces in my short career in the saddle. As things break down, become worn out or go wrong, situations arise where I need to fix or replace things on the bike.
Like it or not, I've had to learn a few things. Simply put, if you don't fix it, you can't ride it.
The most recent thing to go wrong with my bike was my chain snapping. I was out on a ride when suddenly my chain just vanished from my bike. Annoying and a wee bit tragic when I'd just finished all the hard parts of the ride and was just about to slip into the easy part of the ride home… but I lived to tell the tale so I cannot complain! 🙂
I brought my bike to a local bike shop and the nice chap there told me that the chain on my bike was not a very good one. He checked the tension in the chain with a special measuring tool and explained that while it's okay for now, I'd probably need to replace the chain before the summer.
The bike fella explained to me that I should also replace the cassette on the bike at the same time because the chain and the cassette wear down at the same rate. All of this was new to me so I thought I'd do some research for any other novice cyclists out there and break it down for you all. Here's what you need (or just might WANT to know – because who doesn't love some useful trivia?!) :
Bike Chains:
The bike chain is the bit on the bike EVERYONE knows about. When you were a kid, your chain probably "came off" all the time so you probably regularly had to run Dad to ask him to put the chain back on. Or you learned to do it yourself. That was pretty much all I knew about bike mechanics until the last couple of years when I started into triathlon.
The bike chain is part of what's called the "drivetrain" and is what links the whole thing together to make your bike go. The chain is how the rider transfers power to the wheels.When you pedal, you push the pedal down and cause the crank arm to rotate in a circular movement.
Most bicycle chains are made from alloy steel, but some are chrome plated or stainless steel to prevent rust, or simply for good looks.
The pedal your foot pushes is attached to the end of a "crank arm" and you push this around in a circle. This arm (at the other end) is fastened to a circular piece called the "chain ring" – this piece has metal teeth all around the outside and the chain sits on top of it. As you pedal, you push the arm around in the circle, this turns the chain ring, which then moves the chain.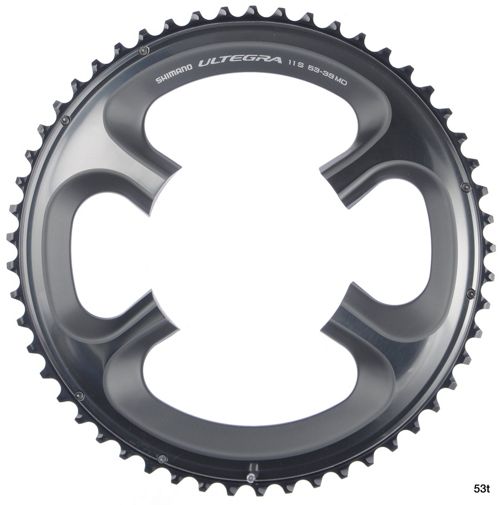 Most bikes have two chain rings – one for higher gears and one for lower gears. When the going is tough, you switch down to the lower gears to make it easier on yourself. When your bombing down a hill, you up the gears to the higher level because it's easier to pedal and you're able to push a higher gear.
Bike Cassettes:
Still with me? Nearly done. Like I said, the chain sits on top of the chain ring which you're pushing around with your foot – but to be able to rotate, the chain needs something else at the back to rotate around. Otherwise, how would it be able to move full circle? So at the rear of the bike, attached to the rear wheel, you have the "cassette" – a cluster of other metal toothed circles. Also known as "sprockets". These metal toothed circles are all different sizes. The bigger ones feel easier for your legs to push, while those smaller ones are harder.
So the chain sits into the grooves of the cassette in the same way it sits into the grooves of the chain ring and when you push pedal around, you move the chain ring which moves the chain and the chain is able to spin around the cassette at the back in a circle.
The Rear Derailleur is just a part which the chain is fed through (see the diagram) and sits to the bottom of the cassette. This is the part responsible for changing gears. When you click your little lever to switch gear, the rear derailleur is the part that lifts the chain from one metal toothed circle at the back (or sprocket) to another.
Now you're an expert! No actually you're really not. But no one ever explains these things to you and I only recently learned these basics when I started to really look at my bike and how it all works. Most people don't want to know or couldn't care less but I'm a bit of nerd that way…
Wear and Tear:
As you ride and change gears, the chain, chainrings, cogs and derailleur wheels pull and rub on each other. You're advised to apply lubricant to act as a barrier between these parts as they rub off each other but between washing and weather (rain washes it away and sun evaporates it away) metal-on-metal contact will happen (don't blame yourself 🙂 ) When this happens, tiny shards of metal get stripped away and the parts get worn down and deformed out of their original shape. Grit flung up from the road also adds to wear. Think of the steps of an old building getting more and more worn with the pitter patter of footsteps over and over and over again.
How to Know When to Replace the Chain?
The chain is the most common part of the drivetrain to wear out and need replacing. You can buy a chain checker tool online or in most bike shops.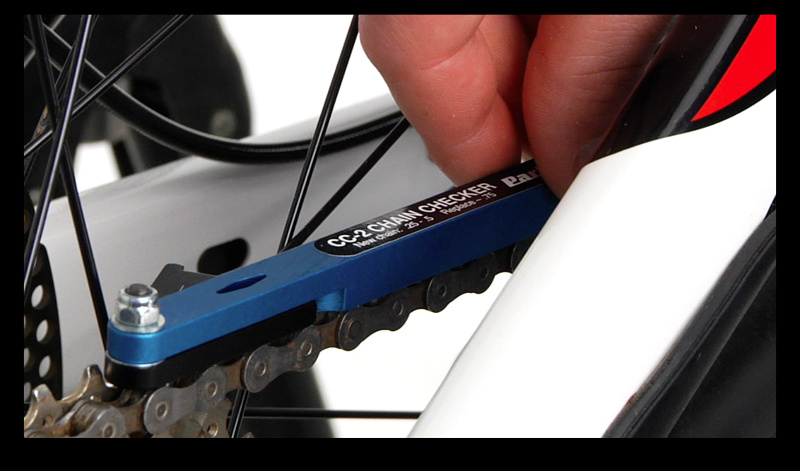 If the chain has stretched and is elongated past the recommended point, it is advised that you get a new chain and cassette (and potentially chain rings too) at the same time. If your drivetrain is noisy, hard to pedal, and, on derailleur systems, difficult to change between gears, then replacing these parts will invariably fix your problems.
Which to Buy?
The bike mechanic I spoke to recently recommended Sram chains and told me in no uncertain terms that he doesn't even consider using any other chains as they're just not good enough. Sram chains are compatible with Shimano cassettes so don't fret, you don't have to replace your entire drivetrain.
What you need to keep in mind when buying a new chain is that chains come in different "speeds" which have to match the cassette, ie an 11 speed cassette will need an 11 speed chain. Why? The distance in between the sprockets varies depending on whether there are 9, 10 or 11 of them. The gap will be wider on a 9 speed cassette than on an 11 speed one. Chains designed to fit a 9 speed bike are therefore wider in width and 11 speed chains are narrower.
Sram Red 22 – 45 euro – What Sram say… This chain features more heavily chamfered outer plates for improved shifting and quieter running. It boasts strength, incredible shifting efficiency, and light weight. It uses Sram's PowerLock connector pin and weights in at 242g. Other features include a nickel silver finish on the inner and outer plates.
Sram Force 22 – 43.70 euro – Like, the Red 22 chain, this one also features nickel plated plates on inside as well as the outside. Weighs ever so slightly more at 256g.
Sram PC 1170 – 43 euro – Nickel silver outer and grey metal inner plates. Weighs 256g. Narrower chain.
Sram PC 1130 – 23 euro – This chain is recommended for use with Sram's Rival groupset. It weighs 259g.
What's the Difference Between them All? 
Apart from the price… not a lot. The Red 22 and Force 22 chains have nickel plating on both sides of the plates which will help prevent corrosion and look prettier. The PC 1170 and 1130 chains do not have the inner nickel plating meaning they're more susceptible to corrosion and likely to ware out quicker. There's negligible difference in price between the Red 22 and Force 22 Vs. 1170 so I don't know why you wouldn't just go for the Red 22 or Force 22.
I researched these chains to death on the internet trying to find detailed information on any of them and what the differences are but I found hardly any information out there. Just people churning out the same blurb that Sram do about the "more heavily chamfered outer plates for improved shiftin…." blah blah blah. Not very helpful folks. What would be great would be if Sram could spell out the features and differences so buyers can understand. Or maybe that's the idea – there are practically no differences but they don't want you to know that and you being a twit buy the more expensive one because you assume it must be better. God damn it marketing. I am the worst offender here, for sure.
I think if you live in a wet area, like Ireland, you're probably better off to go with the Red 22 or Force 22. It's worth noting that you can usually buy these chains online at a significant discount on sites like wiggle or chain reaction cycles so why not go for them over the cheaper 1130 if you can get a bit longer out of them?
I hope you enjoyed that little lesson in bike basics and chains. Next up, I'll be looking at cassettes – differences between them and which ones to buy.
All prices are intended as a guide and are approximate only -they will vary depending on where you buy them.