One of my most favourite things in life is coffee. I have no shame in this and I make zero apologies for it. Everyone has a vice. Some like a tipple, some find solace in a cigarette, some get a kick out of a trip to the bookies. Me, I make time for good coffee, everyday. The only time I miss out on decent coffee is when I'm working and there quite simply aren't enough hours in the day.
Now, my mother and I are very different people. (You're right, your don't really need to know this except for context)… But, nowhere are we more divided than on the coffee score.
She prefers to enjoy coffee at home, where you can make a giant pot of coffee and drink as much as you like, until your eyeballs pop out.
Me, I love going out to a coffee shop and taking time to sit and enjoy a strong espresso based beverage expertly made by a skilled barista. I'm not a coffee snob and most days, I will happily sit down with a pot of coffee I have made myself, but there are times when the treat of a really good cup of coffee is just too seductive to resist.
The Christmas season is upon us and like greyhounds out of the traps, the coffee shops of the world have launched their Christmas coffees and festive foods with no shortage of options to choose from.
Being someone who enjoys her time in coffee spots, I've made it my business to try out as many Christmas sandwiches as I've come across.
You know I like to help you all out where I can.
This clearly has nothing to do with the fact that I am sandwich fiend and will use any excuse to eat more sandwiches. Nothing at all.
😉
Without further ado, I give you:
1. Marks and Spencer's Turkey Feast
Turkey, mayo, cranberry sauce, bacon and sausage stuffing sandwiched between two slices of malted brown bread. This sandwich upsets me. Why? It confuses me. It looks great, contains an indulgent amount of bacon and chunky sausage stuffing, and when you hold it in your hand, you know it's been generously filled. It holds out promises of a delicious near-future lunch.
But then I bite into it and all I can taste is stuffing. So I take a few more bites, thinking it will get better, the only flavour I'm getting is stuffing. I even tried shuffling the ingredients around to give the bacon and turkey a chance to come through… nope.
If M&S were looking for feedback, I'd say less stuffing, more turkey and a bit of green in there would be a welcome addition. Kudos for the charitable donation, of course.0
2. Insomnia Festive Feast
Insomnia do a tasty range of sandwiches and food in general. I regularly treat myself to their Plucky Coronation or Club sambo and I have a serious soft spot for their granola slices. They're also Irish and what really sells it to me is the consistently excellent customer service.
Insomnia's Festive Feast is malted brown bread, crammed with pulled turkey breast, a slice of baked ham, sage & onion stuffing, baby spinach and cranberry sauce. Very like the M&S offering, no?
The good: Plenty of filling, nice bread, good quality ingredients and I love the inclusion of spinach, which everywhere else seems to have decided was superfluous.
The bad: Again with too much stuffing – all I can taste is stuffing. My mouth knows it's eating meat, but I simply can't taste anything except stuffing. Disappointing.
My feedback for Insomnia – last year's sandwich was much better. No bacon this year and it comes in at 547 calories… that's about 160 more than last year. That's a bit too much to swallow, particularly when it just doesn't taste as good.
3. Starbucks Turkey & The Trimmings Sandwich
Here we have an offering of… turkey, smoked bacon,apricot, lemon & sage stuffing, baby spinach and cranberry sauce on malted brown bread.
Good: I like the bread Starbucks use in their sandwiches – thick, fresh and good flavour. Better than M&S bread, hands down. Lovely flavour from the bacon and plenty of it. Like a sandwich superpower, this bursts past the baseline flavour of stuffing. Well done.
The apricot stuffing is also a nice twist and makes it stand out from the other Christmas sandwiches, which consistently trotted out a stuffing that just tasted of onion and herbs.
Bad: This sandwich rocks in at around 600 calories which is hefty, whoever you are. Certainly more than I am willing to fork out for a sandwich. I'm gonna want dessert and a gingerbread latte too, you know…
4. Pret A Manger's Christmas Lunch
I know a lot of people whinge about the price of Pret sandwiches but on the odd occasion that I am in London, I frequently pop in to grab a sambo. Oddly enough, it's not the sandwiches I come for, but their coffee. My first Pret experience was a day when I was touristing around London in the pouring rain, getting lost and increasingly despaired when I eventually came to breaking point. I was so tired, hungry and on the verge of tears when I decided I could take not a single step further and touch refuge in the first coffee shop I came across. Pret a Manger. I ordered a latte and my God, if it wasn't the best coffee I think I've ever drank.
Sure the circumstances played a not insignificant role in how I perceived this cup of coffee but alas, my associations with Pret our all good ones.
The 2016 Pret Christmas Lunch is turkey breast, cranberry sauce, herb pork stuffing, crispy onions and fresh baby spinach on malted brown bread.
Good: Crammed full of filling, fresh and decent flavour. I also like that it comes in at 482 calories, unlike many of its rivals which tend to rock in at 600 calories or more. Oh and they do great sides/ desserts which you can pick up while you're in here. I tried their Christmas Tiffin slice which was rich and utterly yum.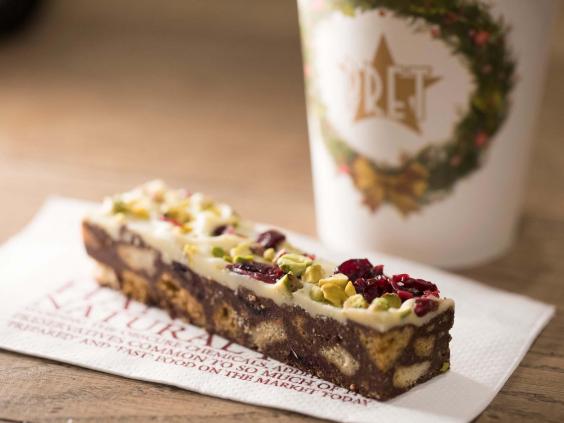 Bad: Somewhat formulaic and uninteresting. I'd expect a bit more flavour, flair and invention from the King of high street sandwiches.
Overall Comments:
I like a good Christmas sandwich that I can enjoy during the holiday season, whether it's a bright pick-me-up in the middle of a working day, or sitting over a nice coffee over-looking Grafton Street as I take a break from hectic Christmas shopping. This year's offerings are okay but I wouldn't be tempted to go any further than that.
Overall, the high street coffee shops are producing predictable, formulaic, dull Christmas sandwiches which really don't taste of much at all. Bit disappointing, to be honest.
Try better next year, eh?