There is something in life that human beings crave above all else. Emotion, elation, ecstasy – teetering on the brink of an out-of-body experience that allows us mere mortals a momentarily glimpse of what heaven must be like. For some people, that's sex. For others it's heroin, cocaine, MDMA or other chemical formation that sets the senses alight. And for those who enjoy a bit of suffering and endurance as foreplay, that's a marathon.
I can still remember that wave of ecstasy and joy as I ran the final mile of my first marathon in 2008 and the overwhelming bombardment of emotions as I crossed the finish line. Delighted to have completed the distance, utterly exhausted, aching all over, while bursting with pride and joy, and all I felt like doing was crying. Completely ridiculous, but there it was.
Ever since then, I've been chasing that same rush – that level of emotion, ecstasy and sheer satisfaction of achievement. Much like any addict, I've experienced similar highs since that first one, completing other marathons and triathlons of various distances, but never to the same extent. In fact, my times have come down quite a bit and I'm a much more accomplished runner/swimmer/cyclist now, but not since that first marathon have I ever experienced that same level of utter overwhelming emotion and satisfaction at the end of a race where you've had to dig down deep into your soul to get to that finish line.
Until yesterday.
I did it. I did IT. I DID it.
I did an Ironman 70.3 yesterday.
It might not have been pretty, it might not have been a winning time and God knows, I will NOT be buying those race photos, but I did cross the finish line, I did get a medal and yes, I now have the t-shirt.
The race could not have had a better day. The morning started off dry and warm as the 2000 odd (in more ways than one…) triathletes assembled at the Forty Foot in Sandycove for the first leg of the race, a 1.9 km swim out into Scotsman's Bay. The course was lined with yellow buoys, most helpful as compared with most triathlon swim courses which often only have a single buoy at each turning point. The extra buoys allowed you to keep on course more easily and thereby give more energy to the actual swim as well as avoiding being kicked or punched in the head. I actually did get quite a bash to the head at one stage but having remained conscious, I considered that a victory 😉
The conditions in the water were good, not too choppy or windy and I didn't notice much of a current. From about 1.4 km onward (ish) I did start to tire a bit and was glad when the course turned back into the bay. On towards the giant yellow Ironman banner and we were soon out of the water and onto the bikes, after a quick dash and grab through the blue bag transition area.
I loved the bike leg. The cycle used to be the worst part of a triathlon for me. I was crap at it and it's always the longest part, so not a winning combination. But since my foot injury and not being able to run, I've been cycling a lot more and as regular readers might tell you, have become a little obsessed with it. So when it came to the bike leg yesterday, I was game ball.
The roads were all closed for the race which allowed competitors a rare experience of racing through Dublin city centre in the middle of the road. It was such a treat. From Dun Laoighre, the cycle route ran straight along the Coast into Ringsend past early morning walkers and supporters (and people merrily making their way home after a night on the town…!) Across the Liffey, we then powered along the quays, securely held by watchful Gardai and more late night stragglers 😀 The course then passed along the outskirts of the Phoenix Park, up Chapelizod hill and out towards Lucan, Maynooth and Dunboyne, taking in 3 counties, before looping back to the Phoenix Park.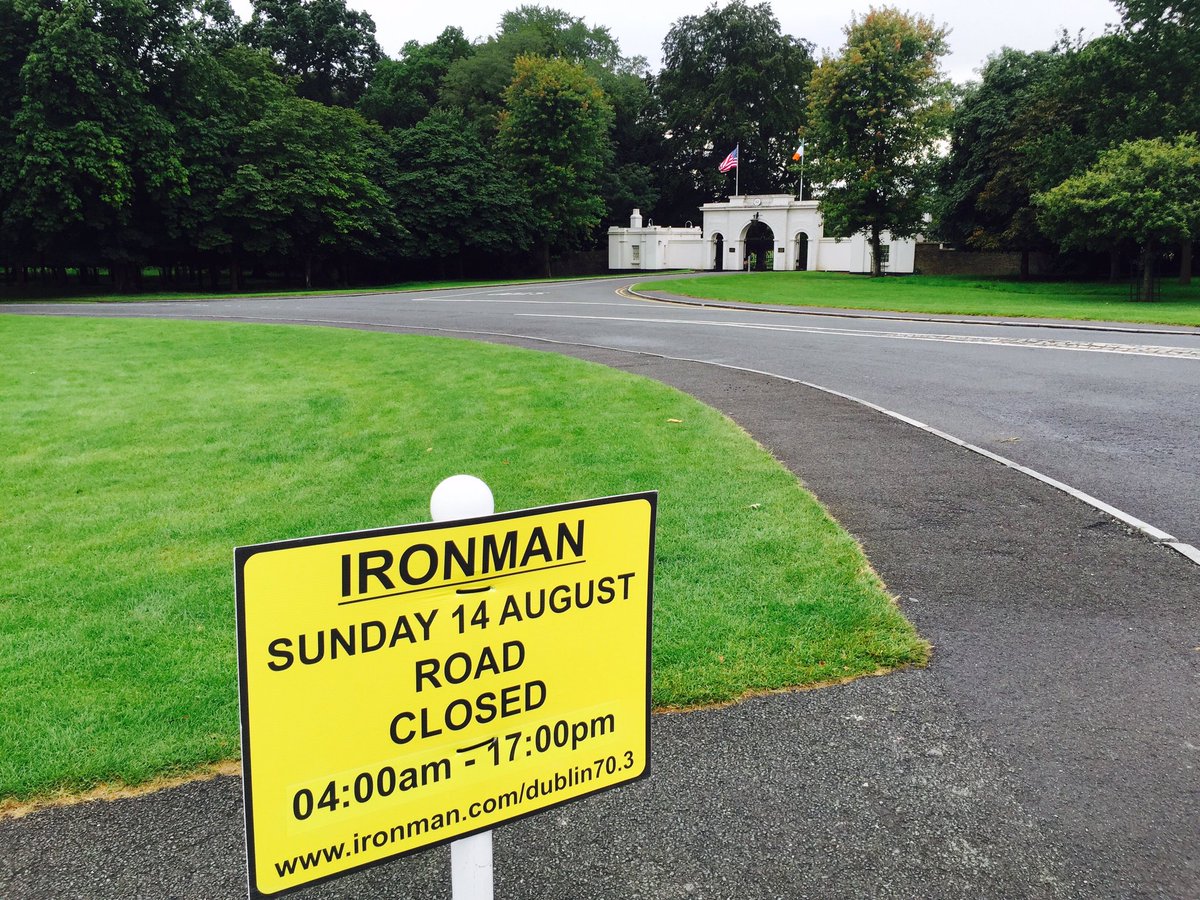 I felt good on the bike and despite some rain for much of the second leg, I really enjoyed it. Marking the longest distance I've ever cycled before, I expected to feel tired by 70/80 km but the reverse turned out to be true. After 50km I began to feel strong. My legs felt good and despite some lower back pain, I was able to push on and found myself flying the last 30km, sailing past strong, toned, young men on fancy dancy carbon bikes. Me and my entry level alloy certainly had fun in this race 😉
A final spin around the Phoenix Park and the bikes were docked and swapped for running shoes.That was where the pain began. I did not intend to do the run at all. I've been injured and have not ran for 4 months, apart from one moment of madness. I had decided I was going to "play it by ear" –  a phrase I've never really understood but you know where I'm going with it. Popped on the shoes and tottled out onto the run course, where I swiftly realised my legs were borderline useless and making it to 1km was going to be hard.
I shuffled at a rate of next-to-useless. It was not a good run and it was certainly not my strongest moment. I took it 1km at a time and decided I'd just finish the first lap and then stop. I walked a couple of times and I stopped at every feed station. But as I approached the finish area, I found myself deciding that maybe I might just do the 2nd lap and then I could stop. I still hadn't spotted my Dad at that stage so also thought it might be no harm to go around again in case he was standing somewhere else along the course and I didn't want to miss (or lose!) him.
On the 2nd lap I knew this was definitely DEFINITELY the last lap, legs were not working and my energy levels were zip. More water stations, stopped a couple more times to walk for a second. But as I was shuffling along, I was looking at everyone else around me, also suffering, also grimacing but nobody giving up. Then I started to ask myself – do I think I should stop because of my foot injury or do I just want to stop because this is really f-ing hard? My foot actually wasn't hurting (very oddly) so I quickly came to the conclusion that if I did quit the race early, it would not have been justified and I'd likely go home that evening feeling guilty, that I'd wossed out and quit. And above all, I did not want that on my conscience.
Bobbing along up to the end of the 2nd lap, I'd already decided I was going to do the last lap, whether it meant walking, shuffling or crawling. I spotted my Dad, gave him a high five and told him "1 more lap!" More water stations, more walking and more shuffling. The only plus side was that every time I passed something now, I was reminded that this is my last lap and I will never be seeing that tree, person, water station, etc again and let me tell ya – for the suffering runner, that gives you an almighty boost! By the last 2 miles, everything was hurting and my legs were simply hanging.
Chesterfield Avenue, final kilometre – I found my legs. Started passing people for the first time in the entire 13 mile leg, and as the Ironman finishing gate came into view, I could feel a final sprint coming on. I rounded the corner, high-fived the race commentator and bounded toward the line with the stupidest grin on my face you could imagine. Crossing that line, I felt every bit of emotion, ecstasy and elation I felt in my very first marathon and more.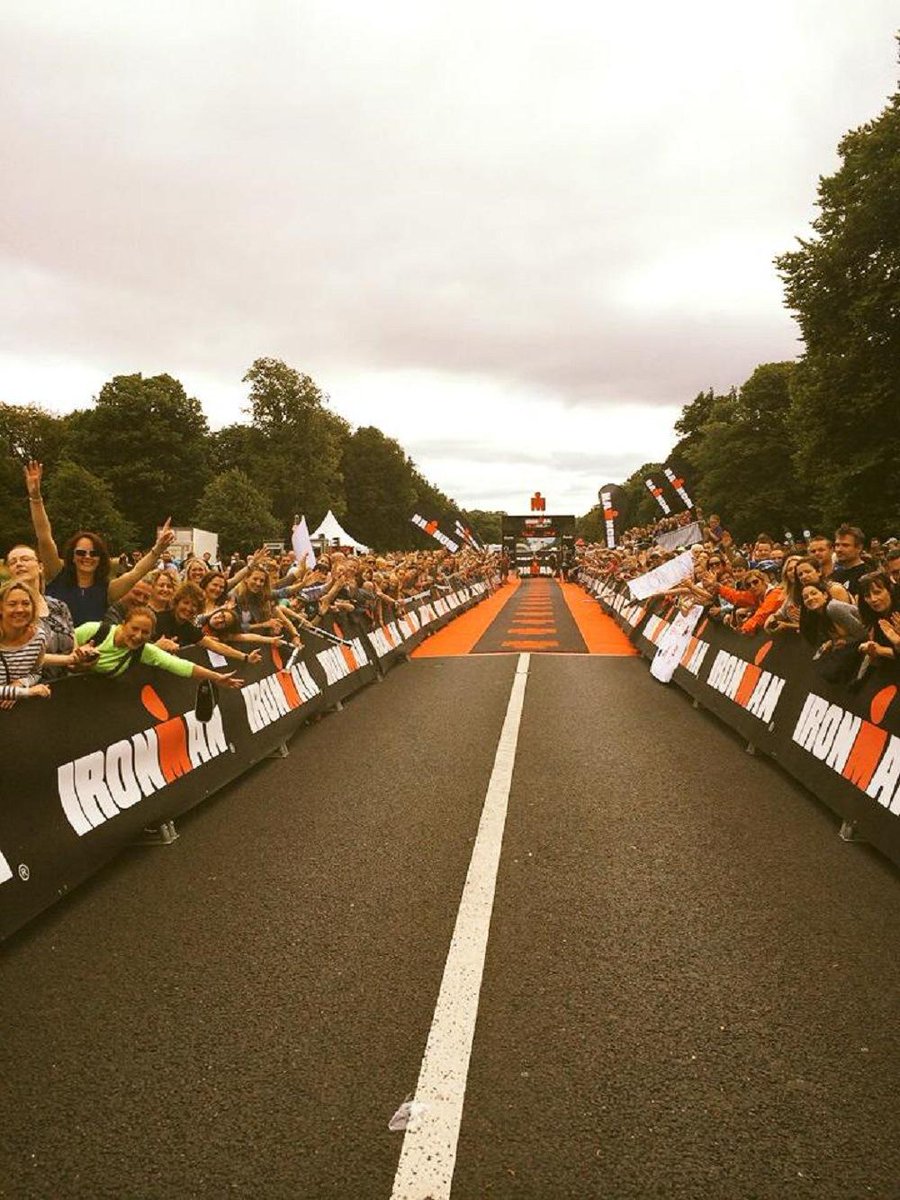 Relief, achievement, pride, joy, excitement, disbelief and absolute sheer physical exhaustion and satisfaction. An overwhelming wave of emotions washed over me and there it was- bursting to cry. It only took 6 hours 28 minutes of swimming, cycling and running, physically pouring out every drop of energy in my body into the earth, sea and air around me.
This was an exceptionally well-organised event and fair play to Ironman who obviously know how to run a good race. The swim, the bike and the run legs were well marked and marshalled. Not all good however and I do have a few complaints, as others did too and for future events I think it's good to bring up:
1. Finishing Area – Athletes Only. After collecting medals and white after-race bags, finishers had to cross a path and walk a short distance to a tent for t-shirt collection and food. Not a problem. The problem is that the walk across and indeed the actual tents, were open to the public too which meant a battle to physically find and get into the tent and then squeeze past people to get into the queue for food. When I arrived, there were kids all over the tent eating food that was meant for the racers. That's not really on, to be fair.
Better thing to do – organise it like you would the end of a marathon, a long finishing chute where you have bag collection, medals, t-shirts, water and food, all in a line and closed off completely to the public. Quick, efficient and so much less hectic and messy. I was too exhausted to keep battling in the tent and fight my way over for food and ended up just leaving it. And I really wanted cake 😦 That's a big thumbs down lads.
2. Bike and Bag Collection
Poor, poor, poor. This was shockingly bad. The bike racks were to be open from 2.30pm for athletes to come and collect their gear. When I got there just after 2.30pm, I found that the truck containing all the blue bags from the swim transition was only just arriving in the park…. a generous 6.5 hours after the last swimmer would have docked their blue bag in transition. So why did it take 6.5 hours to make a 30 minute trip (being generous here) ?
By 3pm, I was standing in the middle of an ever-growing throng of tired athletes who wanted to just get their gear and go home but now all of sudden found themselves virtually caged into a tight space waiting for the gates to open. It was like another leg of the race. Knackered, low patience, growing faint at all this body heat around me and having not had food due to tent debacle… this was a nightmare.
I made it through in one of the first waves of people they let in to collect their blue bag and bike but many after me were still not being allowed in and I can only imagine might have waited for another hour or so.
THIS WAS VERY VERY POOR ORGANISATION. I'm loathed to let something like that ruin a good race and day out but this should not have happened and really should not have been an issue for people to have to deal with at the end of a half-ironman race. It would be great if they could sort this out for next year.
Overall, I loved it and am so glad I did it. My legs are in bits today, I can't do stairs yet but I am smiling all the way. Now, all that's left for me to do is decide firstly, where I'm going for a massage and more importantly … what next?