So I've been mindful lately that I tend to neglect the foodie part of this blog and seen as I was in Paris last week for the marathon, I thought it would be an opportune moment to indulge in a bit of gastronomy. And to let you have a look, of course.
Paris is nothing if not a foodie mecca. There are more boulangeries, cafes and restaurants than you could possible imagine. I did some research online about possible restaurants we could eat in and boulangeries where we could find some nice bread but this turned out to be completely unnecessary. There were boulangeries on every corner and every single one was stocked with the most incredible homemade baguettes, breads and patisseries. If anything, the selection was somewhat overwhelming, making the decision as to which place to buy from and which pastries to choose a most difficult one! If you're planning a trip to Paris, do not be afraid mes amis – it seems that you cannot lose.
The first couple of days of my stay in Paris required a bit of every fibre of discipline in my being to hold off on baguettes, pastry and rich, delicious, butter-soaked french food. Marathon running and rich food do not go together and in hindsight, with the weather conditions proving so uncomfortable on the day of the race, I was so glad that I had been careful with food beforehand, as the combination of the two would likely have resulted in gastro disaster. I stuck to simple sandwiches and pre-made meals that I brought with me, along with the usual fruit, yogurts and granola bars.
After the marathon on Sunday, I was free to eat Paris. I like to think I did my best.
I'm nothing if not a trier.
Croissants for breakfast on the morning after the marathon, along with Nespresso coffee made by yours truly with the able assistance of a Nespresso coffee maker in my hotel room. So good – I'd never used one before but wow – I found it hard to restrain myself from drinking these bad boys back to back. Obviously, having this handsome devil in my room determined that I would be the host for breakfast every morning for the remainder of our stay.
After walking miles and miles on Monday around Pere Lachaise, Notre Dame, Saint Chapel and Conciergerie, stopping for lunch along the Seine was essential. Papa went for a crepe with smoked salmon and cream cheese (ably assisted by Mama!) while I happily filled my very happy face with a classic baguette with ham, cheese and salad. Good job.
On Monday and Tuesday evenings, after our adventures touring Paris, we chose to have dinner in local places, short walks away from the hotel, which was nice as it meant we could just walk home afterwards without the need for metro or any more hectic activity.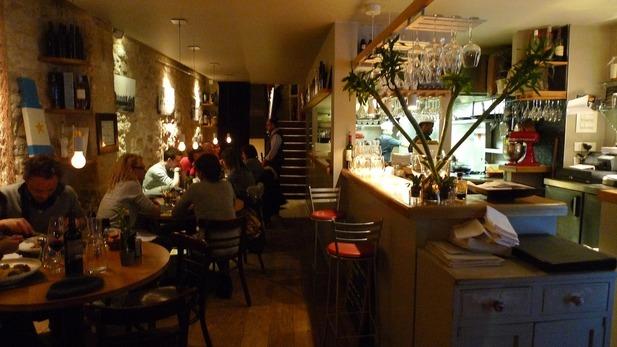 I'm often criticised by a lot of people as being overly rigid when it comes to food and diet when I'm in training for an event. I love them but I don't agree – I like what I eat and I like routine – it's just part of who I am. I eat a lot and I understand that training for a big event like a marathon or triathlon takes a huge toll on the body so for me, eating well and healthily is important. I don't want to get injured and not be able to participate in events, and I also want to improve and become stronger as a runner and triathlete. So I eat good food that I hope nourishes my body and helps build me up. And if I appear to be rigid to others, then so be it. However, after a big event like a marathon, I relax. I drink and eat stuff I don't normally do and I have a bit of fun with it all. Paris was no different- I just had a different playground for the first few days 😉
Every evening, I drank wine and I ate dessert. Chocolate fondants every night, seen as you ask. With ice-cream and a double espresso. The french, it seems, are masters of the chocolate fondant and who am I to argue. R.E.S.P.E.C.T.
Merci Paris. Until next time…