I am a simple person. There are many things in this life I would happily live without. Many, many things.
Top of the list, just by the by, would be smartphones. Sure, they have their uses but at the end of the day, it just feels like a tether, anchoring me to the world and everyone I know, letting them know where I am all of the time, always within reach, always contactable. Gone are the days when all there was, was landlines, so that when you went out the front door for a walk to get some air or switch off for a while, you were gone, gone. You actually were TAKING A BREAK. You actually were SWITCHING OFF. Man, I miss them days…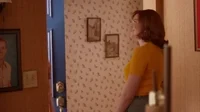 Tangent finished – sorry.
I am a simple person and I take pleasure in very simple things – an open fire, riding my bike, running, swimming the sea, baking, reading – you get it. Simple. I could, obviously, live without all of these things, but to live without the things that give you pleasure would be an unbearable life. An existence, not a life.
One of the simple pleasures in my life, that always gifts my day with a sprinkling of joy and undeniable satisfaction is coffee. I started drinking coffee when I was around 18 – so a latecomer to coffee, some might say. I grew up in a house where my Dad chain-drank cup after cup of instant coffee – tbsp of full fat milk and 1 tsp of sugar. First thing in the morning, before anything else or any conversation, all day long, right up to bed time at 3-4 in the morning. Not the greatest introduction to coffee and it never enticed me, odd that!
Then came the french press cafetiere, making its appearance sometime in the noughties, a modestly priced easy to use coffee maker, which introduced every household in Ireland to proper coffee, which not even the simplest of people could screw up. My mum got one and hey ho, "proper" coffee became a regular occurence in our house, with Mum proud to be able to offer "proper" coffee (her reference, not mine!) to any guests that arrived at the house.
Fast forward a few years and Ireland has rapidly become populated with coffee shops and coffee experts, with many coffee shops in Ireland featuring not only expertly trained baristas, but also featuring their own coffee/ coffee beans, which they have sourced and roasted themselves. Ireland has gone from the freeze dried delicacy of instant coffee in the eighties to an exceptionally high level of coffee in a very short space of time.
In short, coffee culture in Ireland has become massive and no greater example of this is Cork city. Sure, there's buckets of places in Dublin, but let's leave Dublin aside for a second and talk about the real capital. I was last in Cork 10 years ago, when I finished university here and moved back to Dublin. Back then, I'll admit I was no coffee expert. I drank plenty of coffee (from an aforementioned cafetiere…) and there was two or three nice little cafes in the city centre where you could get a nice coffee and scone. But it was not a big deal, it certainly wasn't the feature product of any place and there was no high falutin, fancy dancy home roast coffee beans culture going on, anywhere. You almost had to know where to look for coffee in order to find one.
I've recently been re-located to Cork for work and the first thing I noticed when I went for a stroll around the old neighbourhoods around the city was the sheer amount of incredible coffee shops that have sprung up all over the place. All of the crumby, dirty streets and lanes that hug the city centre, that you wouldn't have walked down 10 years ago, have suddenly become populated with trendy, vegan, wood-clad cafes ran by people with undercut hairstyles wearing black t-shirts. I don't know where to look when I'm walking down a street anymore – they all keep grabbing my attention – left, right, oh, one up ahead…. oh look another one across the street… wait, is that one in the middle of the footpath? Yep.
For me, as a coffee lover and fanatic, this is fantastic. I can't tell you how excited I am to try them all out. I would love to go out and try them all right now, but I would (a) be broke and (b) be sick from the inevitable caffeine overdose. So, my plan is to try them all out one at a time and enjoy the experiment of trying them all out. AND to assist anyone else out there who may happen to travel to Cork and be looking for a good coffee shop to hit up and you don't have time to try them all out first like me, I thought I'd do a Cork coffee shop rating series, where I write a review about each place I try out.
First up – Three Fools
The 3 Fools is located smack bang in the centre of Cork city, on Grand Parade. More specifically, smack bang in the middle of Grand Parade, as in, in the middle of the footpath in a glass cube.
From the outside, it looks a bit naff (is that still a word?) but when you're inside it, it's actually pretty cool. It's small inside, but the seating is really tasteful and pleasant and it's pretty fun as a people watching spot, seeing people rushing around you as you sit inside chilled out with your coffee.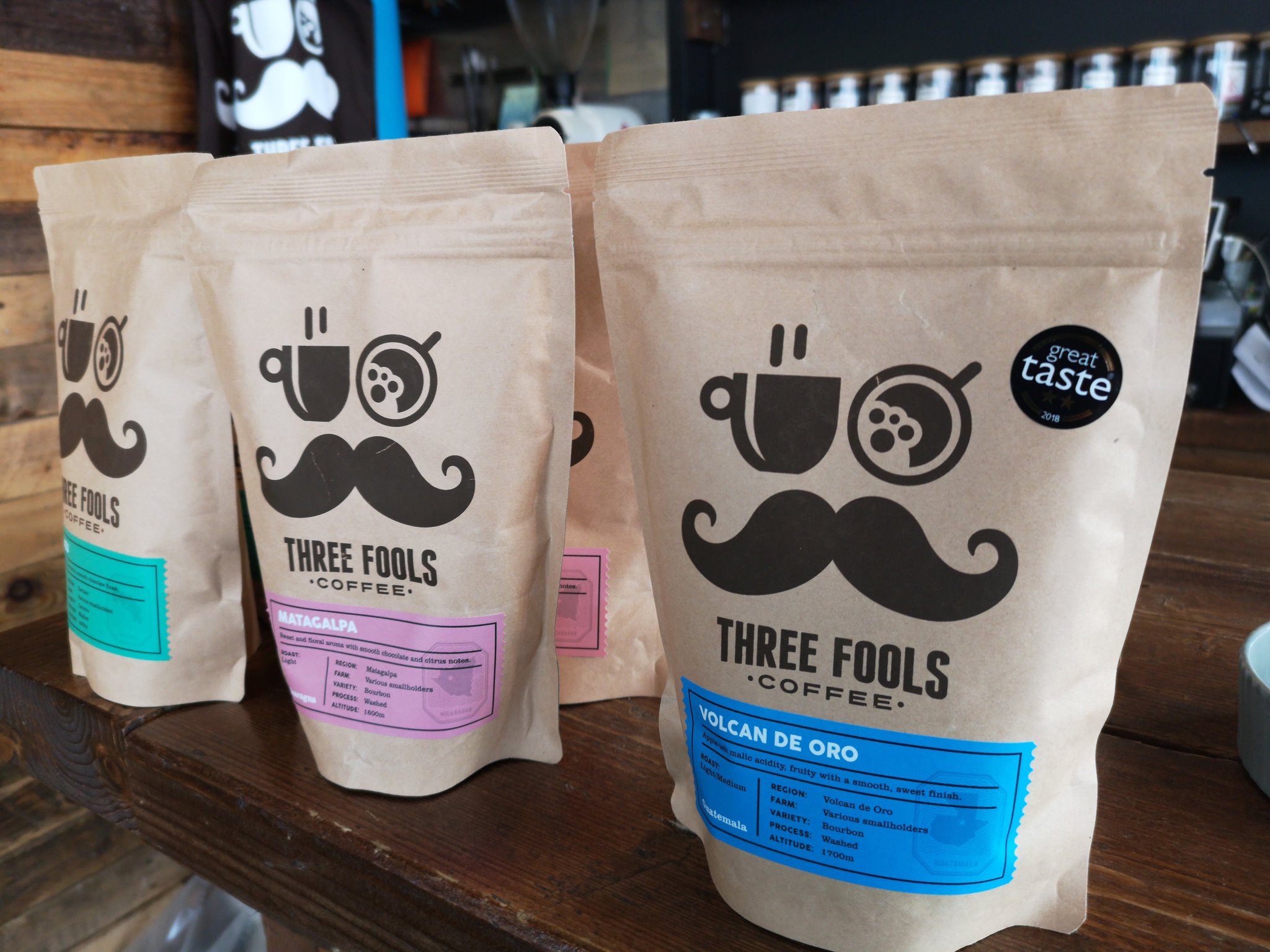 The 3 Fools take a lot of pride in their coffee and they offer a variety of types of coffee you can order. If you look at their website, they talk about how they ensure that the coffee beans they use are ethically sourced and the coffee is "expertly brewed using one of the finest espresso machines in the world, the Royal Aviator. We also use many other other manual brewing techniques such as Chemex, V60 and French Press." In other words, they take their coffee seriously here. You can also buy some of their coffee and coffee beans to make at home yourself, should you so wish and they offer a variety of different kinds of coffee to choose from.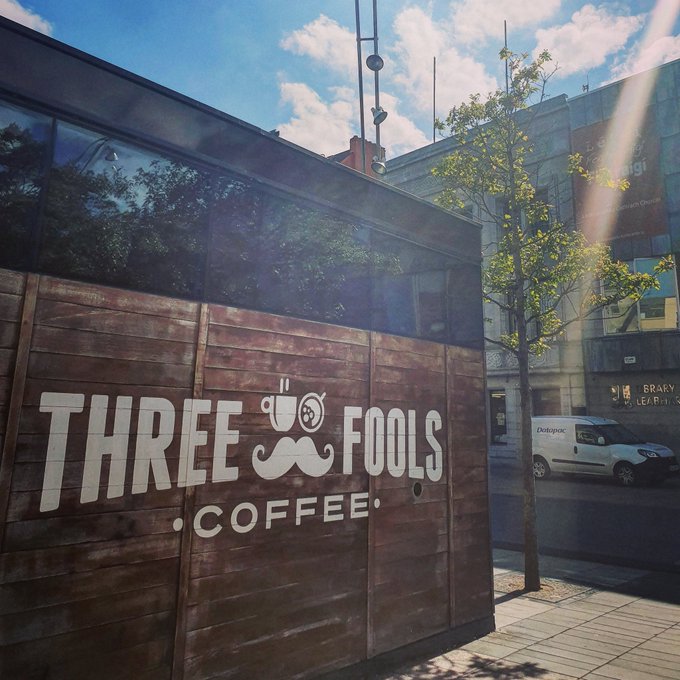 I opted for a large americano, my usual. It was good. My first thought was – I've definitely tasted this coffee before and trying to work through all of the coffee places in Dublin, I was gambling on it being the same coffee that is served in the Rolling Donut in Dublin…
Foodwise, the Three Fools offer sandwiches and rolls – it's a short limited menu but it's all of their food and it's a nice selection. I ordered the spiced beef, sauerkraut and swiss which came on a crusty white baguette. I was really hungry so I was up for anything. The sandwich was nice and fresh and the bread was good. Having just come home from France, I have been having difficulty finding decent crusty baguette type bread since I came home, but this was quite good. Not as good as France, but still good. The spiced beef inside the sandwich was yum, gherkins good and the sauerkraut was a perfect companion. I do have a gripe however- the sandwich cost 6.50 euro and there was one slice of beef in there – definitely not enough filling by half. When the customer is paying as much as 6.50, you have to put more in the filling. There's nothing worse than a mean sandwich. It just breeds resentment and it will mean I won't go back.
On the sweet treats options – they also do a selection of baked goods – great looking raspberry brownies, chocolate biscuit cake, millionaire shortbread and then they have some great looking gluten free, vegan options – chocolate powerballs of various flavours and a few other things. I went for a cashew butter oat flapjack thing, which had a nut butter flapjack base and a layer of nut butter frosting on top. I'd give it a 7/10. It was hearty and felt nutritious, with a good dose of nut butter which you could taste both from the flapjack mixture and also from the frosting. However, neither the frosting nor the flapjack were sweet enough, if at all, and if I'm having a sweet treat, it needs to be sweet lads. Just a touch more sweetener, whether it's syrup, honey or real sugar, and you'd be on to a good thing here.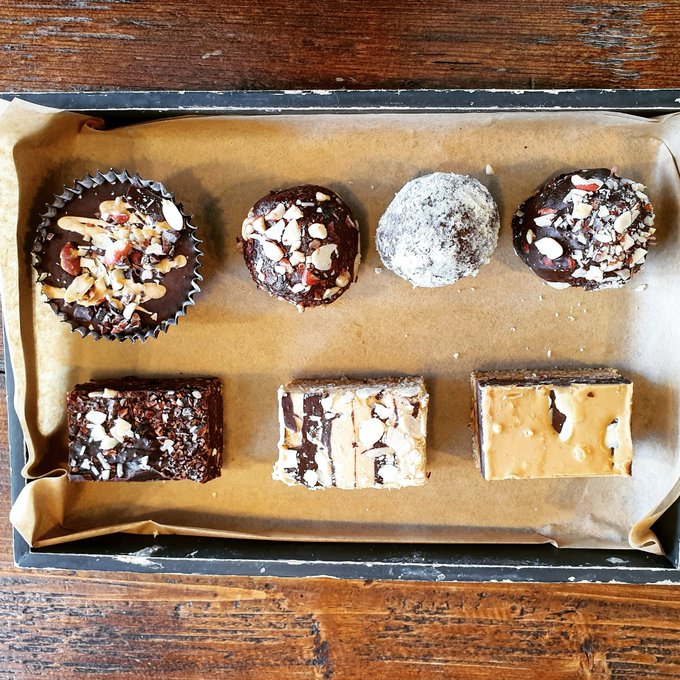 Although my review of the food above is not overwhelming, I most definitely have to say that if I had never eaten anything out of the bag of food I left with, I 100% would have gone back to this cafe purely because of the exceptional service which I received when I was here. I was served by a chap at the counter who was friendly and helpful, but also very polite and professional. I often find nowadays that some of the "trendy" hipster type coffee places are manned by people who are either overly familiar with you when you've never met them before in your life, or they are far too cool to even acknowledge you such that you feel like they are doing you a favour by serving you and taking your hard earned 5 euro for a coffee, that by all reasonable expectations should cost half that. The staff in The Three Fools were properly decent, answered my stupid questions in a really nice, helpful manner and even told me to take a seat after I had placed my order and said they would drop it all down to me when it was ready. Who does that in Ireland anywhere??? So sound and so nice.
The quality of service brings this place up from a 6/10 to a 7.5/10.
I so want the quality of the sandwiches in this spot to improve (just be more generous!!) so that I can go back here – I can say with confidence that if the sandwich situation improves, I'd move this up to a 9/10.
Verdict: 7.5/10 – Good coffee spot, but needs improvement.