It's been 3 years since my last triathlon race. Until last weekend.
On 13th August 2016, I did my first and only Ironman 70.3 event in Dun Laoghaire, Dublin. I'd signed up to the event in early 2016 when planning out my year's racing. However, as luck would have it, I ended up getting injured in April 2016 and was ruled out of all running for the rest of the year. As a result, I had to resign myself to not taking part in all of the running and tri events I had already signed up for (and paid for!), which was really bloody difficult. To say it was a struggle would be an understatement. More like a frenzied, demented wrestle with myself…
It was the first time in my life I had ever signed up to an event and then not taken part. I managed to tie myself down for the whole summer, except when it came to the Ironman. My rationale was that I'd already paid the 300 euro registration and I really, really did not want to miss out on the whole experience so I reached a compromise with myself that I would just do the swim and the cycle and then tap out. Needless to say, when it got to that point, I thought ah sure, I'll just do a little bit of the run, just one lap and leave it at that. I passed my Dad and waving enthusiastically at him to convince him I was feeling great at that point… I shouted to him "Just gonna do one lap, Dad, I'll see you shortly." Of course, the runner in me couldn't quit after one lap and I ended up doing the whole thing.
The 70.3 was a great experience, but I effectively ran the half marathon having done zero running training. I hadn't run at all for 4.5 months. This is something that I would absolutely always warn other people against and was not something I ever remotely would have done previously. I was a desperate person and I reached for a desperate solution. I absolutely advocate that if you want to run a half marathon (or any other distance) you 100% must train for it properly. Otherwise you risk picking up an injury, or at the very least, you are just going to be incredibly miserable the whole way around. It will feel uncomfortable, uncoordinated and unending. In a word, horribl
I don't regret doing the Dublin 70.3 but I would l love to have the opportunity to do it again, on the back of proper running training.
I haven't done any triathlon events since that race, that is, until last weekend when I took part in the TriAthy 2019 in Athy, Co. Kildare. This is a big event on the Irish triathlon calendar and it includes 4 distances starting at Double Olympic, Olympic, Sprint and TriAthy, which is like an introductory event for people new to triathlon. I've tried a number of triathlon events in Ireland but I'd never opted to do TriAthy before, mainly because it was so near to home and I was always looking for an excuse to travel to another part of the country. I was also conscious of the size of this event, knowing that it typically attracts a large number of participants. The more people there are, the more feet and arms there are to bash you in the water… But a friend had signed up to do the beginner event and he convinced me to give it a go.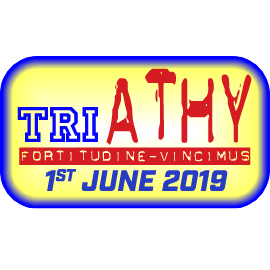 So there I was last Saturday morning, the beginning of June, standing on a riverbank, wearing a wetsuit, bracing myself for submersion into fresh Irish waters and 3 hours of go, go, go. Ah yes, there's a feeling I remember. The smell of neoprene and plastic swim caps. The tightness of the wetsuit across your chest, magnifying the increasingly quickening tempo of your breathing as the time to jump grows nearer. All familiar. All terrifying, but at the same time, exciting. 
Triathlon has always been, for me anyway, a matter of getting comfortable with the uncomfortable. And I'm not just talking about letting all of the locals see you putting on a wetsuit. And flailing about indignantly as you wrestle about trying to get the damn thing off…
The whole event – the three separate legs – is quite terrifying when you think of it as a whole. Each event is difficult enough on its own, but put them all together with timed, tricky transitions, and do them back to back, can feel like an overwhelming concept. The participant is stripped down and challenged in the most fundamental ways. You have to use your most basic fundamental survival skills just to get through from start to finish. Can you swim? How fast can you swim? How comfortable are you in the water with 100s of other people vying to get past you? Do you know how to use a bike? Are you better than the others? And after all that mania, what do you have left? Because even if you're a decent runner, if you don't have a strong enough mind and an iron will, you won't make it past the 3km of jelly legs that inevitably follow after you dismount from the bike. Running on fresh legs is one thing, but running on jelly legs which are tired and stupidly uncoordinated after 2 hours of swimming and cycling is a different animal altogether.
So yes. You have to learn to get comfortable with the uncomfortable.
As I stood on the riverbank of the Barrow last Saturday morning, I remembered that feeling. I missed it more than I knew and I breathed it in deeply, ready to rock and roll.
The event was brilliant. It was a very well organised event from start to finish. Registration was in the Athy GAA club and I was in and out in minutes. Then a short walk down to the transition area, which had been divided up in different sections for each different race distance, thereby keeping each race separate. Each event started at a different time which meant there was a constant stream of people coming and going from the whole transition area the entire time. At first I thought this would never work, but it worked seamlessly, with no mix ups with all the coming and going and it was just excellently marshalled and controlled by the race organisers.
The transition area worked well, with each participant being allotted an assigned space on the bike rack according to their race number. This is a simple thing but it works brilliantly. In a lot of races I've been to in the past, it's just a free for all in the transition areas with no allotted space – you just rack your bike where there's a space and set up your station there. You have it all set up, looking good and ready to go before some last minute twit comes along 5 minutes before transition closes and rams their bike in beside yours and shoves all your gear out of the way. Inevitably, you've already left transition to drop your bag off so you don't actually realise the arrival of said twit until you come back from the swim leg to find all of your gear all over the place. It throws you off, you lose time, and it pisses you right off. So I was well happy with Athy on this note!
I chose to do the Olympic distance, so the swim was 600m upstream, around a buoy, then 900 m downstream. There was a rolling start, which worked very well, allowing three or four people into the water at a time. The water was fairly cold so it was important to keep moving and keep it as short as possible. It took me a while to get into it and find a rhythm and the water was very cloudy which meant a lot of sighting was necessary to stay on course. Not gonna lie, I was very happy to finish and get out of the water!
T1 was going well until I had some issues getting out of the wetsuit… for some reason I couldn't get the sleeves over my hands. Not something that has really been an issue before but I'd out down to being out of practice and also being quite cold… Once out of the suit, I was quick getting my bike gear on and out of transition.
I hammered the bike. This was the leg I was most looking forward to. I used to be brutal at the bike and I was always that person getting passed by everyone else, before getting to the run where I would pull myself back up the rankings. But having adopted cycling as my number one sport in the last year or so, I was keen to see what difference it would make. I went all out and thoroughly enjoyed myself, for once being the person overtaking others. What was particularly nice (and new!) was one section when the course turned back on itself at about 30km, such that the flow was going both directions and you could see all of the people who were behind you. I noticed a lot of people with very good bikes who looked like good cyclists and I started to think I was pretty deadly for being ahead of them! In a moment like that, it doesn't matter that I'm not pretty deadly, but it does give you a nice boost and it spurs you on for the last 10 km home. I averaged about 31 kph for the 40 cycle and I was happy with that.
T2 was quick and I was happy that I did this pretty fast. The only issue with T2 was despite having been no more than about 20-30 seconds changing my gear, my T2 time was about 2 1/2 minutes due to the run out of transition to the start line of the run being sooooo long. Not sure why they didn't just bring the start line back nearer to the transition area and I thought this could have been better.
The run course was out onto the main road for approximately 3km where the cyclists were still coming in (again, a great psychological boost!) The route then turned right off the main road into a field/ cross country which led down to a path running along the riverbank. Two laps of this and it was over the bridge onto the main street of the town and across the finish line.
Total time was 2 hours 52 minutes, a PR of 15 minutes! Happy out. Ice cream, drinks and chicken curry till your heart's content at the end! This was a really well organised event and I would highly recommend it for beginners or veterans alike. It was great to be back doing a triathlon again and I can't wait for the next event at the end of June. It probably won't be a PR that day, but what it will be is another day to smell the neoprene, feel the buzz and… swim. Bike. Run.
Total Time:  2 hours 52 minutes
Swim:     34:42               T1: 3:18             Bike:   1:17:31           T2:   2:31                Run:   54:24